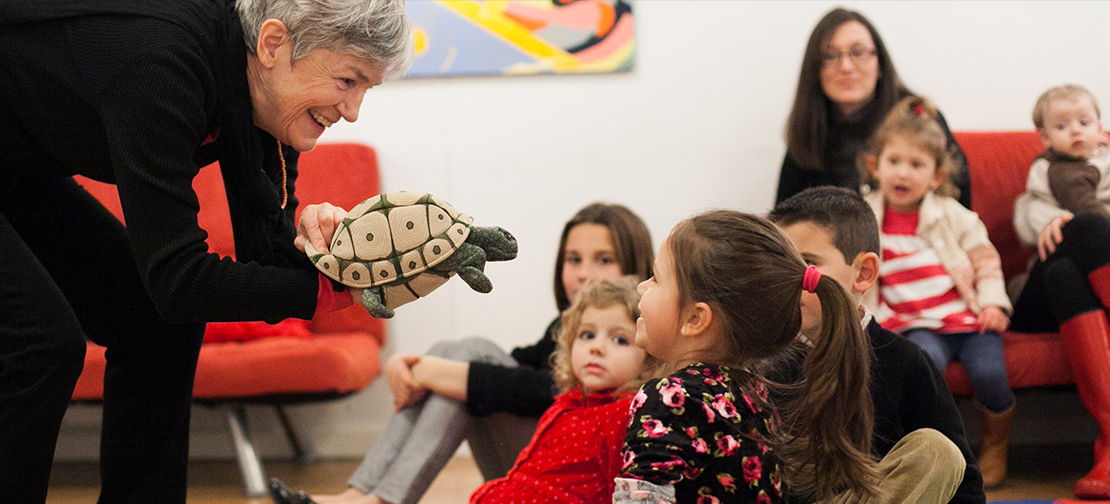 Engaging, hands-on educational programs for schools, libraries, museums and nature centers
With a Masters Degree in Special Education and decades of experience as a teaching artist and performer, Lydia can craft entertainment and education programs to suit children of all ages and needs. Programs Include:

An environmentally-themed puppet show and songfest about animals and their habitats, nature, recycling, and climate-change. General exploration of ecology, recycling, and resource conservation. Stories and skits are improvised with "Kid Puppeteers". Puppet characters and songs are clever and entertaining, while science based in their content. Assemblies and workshops available.
Sign and Sing
ASL is an independent language with a unique syntax and word order. Conversational ASL classes are appropriate for all ages together or for 9 –11, 12 – adult in particular.
Students acquire communication skills while enjoying diverse approaches to learning a new language. Sign & Sing offers interactive classes for caregivers and babies, 3-6 year olds, and 7- 9 year olds who thrive on signing while singing through movement, simple games, puppetry and dance.
Through modeling, participants will acquire fluency in phrases for greeting people,identifying  their family members and engaging in activities. Counting, the alphabet, colors, animals and more will be acquired in residencies provided by educational venues or social meet-ups . Songs are a mix of popular favorites and Lydia Adams Davis originals.
Lydia has an Master of Science degree in Deaf Education/Hard of Hearing  from Hunter College which included studies at Gallaudet University and the Sign Language Center in New York City.  ASL curriculum  is available on request.)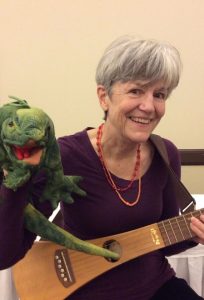 I Live in a City
Is a musical program based on "I Live in a City" by Malvina Reynolds, who wrote many family songs about people and animals getting along! It describes how diverse communities of color, culture and background can work, play, build, and celebrate getting around the city. Through singing simple lyrics in English, Spanish, French and Sign Language, children can describe their experiences in multiple languages. This folk-rock song and other work songs will be shared through free expression,  games, call-and-response, movement , etc which prove to engage children of diverse learning styles, interests and ages. Children will also share their own original stories in a single concert or a 5-10 week arts residency. Adults are encouraged to work closely with the students and the Teaching Artist.
Children thrive on expressing their feelings about their own adventures coping with city life. The concert demonstrates how folks working together is vital to the life of a city or a town.This program draws on Lydia's life experiences as a parent, teacher, and young person living and raising her family in New York City where she came to present Arts Education events to a wide range of city schools and libraries. For entertainment value , Beaver will perform  "My House Is A Construction Zone". Lydia will teach "The Lunch Song, together with Sign Language. These popular songs are from "We All Have Lunch with Lydia Adams Davis". The songs were created by Lydia and students in NYC schools and are available on CDS .
Arts residencies may include making Sock Puppets.
Humorous Heritage
Add creative movement and puppetry to traditional music & songs in  a variety of sing-a -longs, call-and-response, and simple circle dances in  English, French , Spanish, Caribbean, African and American Call-Response songs of the Georgia Sea Islands. Popular songs include "Des Colores;"  "The Irish Washerwoman,"( a traditional Irish jig;) the Caribbean favorite "Tingalayo;" the traditional French song "Sur le Pont d'Avignon;" the English song "The Grand Old Duke of York;" and "Shoo Turkey, Also,  "Una Elephante , "There Was A Pig Went Out to Dig"and Indian Planting/ Rock Passing game. Children will sample banjo, dulcimer, ukulele, rhythm sticks and a Limberjack puppet offers hands–on percussion!
Singing Books
Favorite truthful tales make great songs! Lydia writes them with kids K-5th grade. Learn how Corduroy concludes, "Everyone Needs A Hug', Sylvester discovers "You Gotta Be Careful What You Wish For" with his magic pebble, and the Adventures of Pete the Cat create all sorts of adventurous songs on guitar . The Great Kapok Tree, Cloudy With A Chance of Meatballs, Miss Nelson is Missing, Magic School Bus, and, with older readers, delve into "Macbeth's Soul Was  Broken" in a story song co-written with 4th grade Shakespeare students.
Songwriting workshops and concerts available for libraries and where ever young readers are found!
Working with Lydia, children have fun learning to put melody , structure and lyrics together on a variety of themes selected in advance, including historical personalities, transportation, science, literature and fantasy.
"Colonial Ballads: Songs of Work and Play","Remember the Ladies","Harriet Tubman and the Underground Railroad","Susan B's Victory!" are a few of Lydia's Women's programs that make our history come alive through balladry and stories.
Songs of love, empathy and respect for our differences. This song features " Courage" by Bob Blue who continued to write songs with children as his condition of M.S. provided challenges.
Catfish for Supper

Lydia's musical outreach for children on the Autistic Spectrum is named after a traditional country-folk song performed for years by a blind musician – performer with roots in the South. This song opened the door to verbal communication by one of Lydia's young audience members. Program includes rhythms and songs that engage and build communication.
ABOUT LYDIA'S EDUCATIONAL PROGRAMS:
Adaptable to age groups from early childhood through elementary and middle school
All programs include stringed instruments and sing-along songs.
Bilingual options include Spanish, French, and ASL.
Length of all programs is 45 – minutes – 1 hour (adaptable).