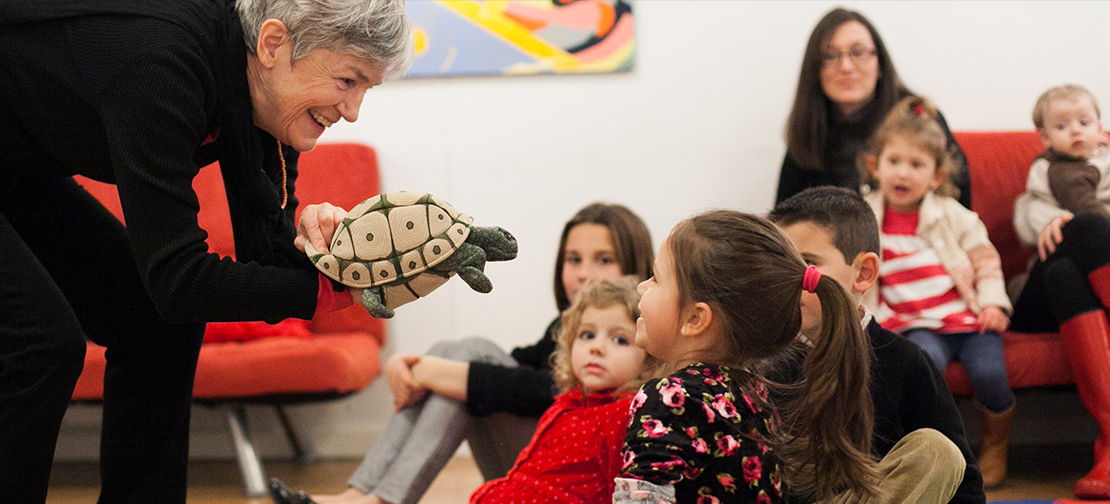 Engaging, hands-on educational programs for schools, libraries, museums and nature centers
With a Masters Degree in Special Education and decades of experience as a teaching artist and performer, Lydia can craft entertainment and education programs to suit children of all ages and needs. Programs Include: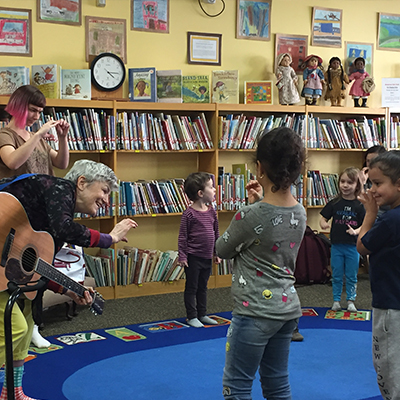 One Earth So Green and Round – An environmentally themed puppet show and songfest about animals and their habitats, nature, recycling, and preservation.
Sign and Sing – Learning sign language not only enhances children's communication and reading skills – it's a lot of fun, too. This popular program features songs and stories in sign language, which Lydia speaks fluently. Through music and demonstration, children will be introduced to the ASL alphabet, and learn the signs for greetings, favorite foods, family members, and more. Songs are a mix of traditional favorites and Lydia Adams Davis originals, and may include "The Butterfly Song," "The Cat Came Back," "The Lunch Song," "De Colores," "The ABC song," "Apple Tree," and "Spring Song." Instrumentalist Eric Garrison will play musical accompaniment. Lydia has an M.S. in deaf education from Hunter College and has studied at Gallaudet University and the Sign Language Center in New York City. (An ASL curriculum for teenagers is available on request.)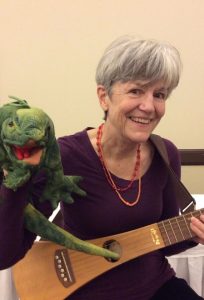 I Live in a City – This program is based around the song "I Live in a City" by Malvina Reynolds, which describes a community of all colors and backgrounds working together. By learning the song's simple lyrics in English, Spanish, and sign language, children will develop a beginning vocabulary of words to describe their experiences in multiple languages. The song will be taught through different methods, including games and call-and-response, to engage children of all learning styles (tailored to the age of the audience). Children will also hear original songs by Lydia Adams Davis, which focus on the jobs that communities and families do together, and demonstrate how working together is vital to the life of a city. This program draws on Lydia's 25 years living in New York City and working in a wide range of city schools. Songs played by Lydia, accompanied by instrumentalist Eric Garrison, may include "Ride on the Bus with Me" and "I Build a House."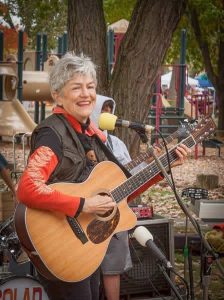 Mando Walk – In collaboration with singer-songwriter and instrumentalist Eric Garrison, this program encourages creative movement while introducing children to a variety of string instruments. Children will enjoy hearing lively, traditional "fiddle tunes," participating in sing-alongs and call-and-response, and learning a simple circle dance. Featured instruments include several members of the mandolin family (in Spanish, ana mandolina), as well as dobro and guitar. Songs may include the Spanish-language favorite "De Colores;" "Ana Mandolina," an introduction to the mandolin in Spanish; "The Irish Washerwoman," a traditional Irish jig; the Caribbean favorite "Tingalayo;" the traditional French song "Sur le Pont d'Avignon;" the English song "The Grand Old Duke of York;" and "Shoo Turkey," the traditional call-and-response song from the Georgia See Islands.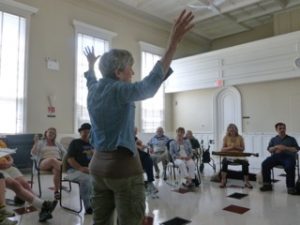 Songwriting Workshops, – Working with Lydia, children have fun learning to put melody and lyrics together on a variety of themes.
Historical Programs – "Colonial Ballads: Songs of Work and Play" and "Harriet Tubman and the Underground Railroad" are two of Lydia's historical programs for children that make history come alive through balladry and stories.
I've Got Your Back, – Songs of love, empathy and respect for our differences.
"Catfish for Supper" – Lydia's musical outreach for autistic children, named after a traditional country-folk song that opened the door to verbal communication for one of Lydia's young audience members. Program includes rhythms and songs that engage and build communication.
ABOUT LYDIA'S EDUCATIONAL PROGRAMS:
Adaptable to age groups from toddler through elementary.
All programs include stringed instruments and sing-along songs.
Bilingual options include Spanish, French, and ASL.
Length of all programs is 45 minutes (adaptable).