Dressed in period costume Lydia entertains and educates with songs and stories from major eras of American history, including: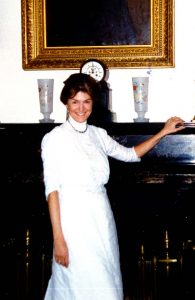 Suffragette
Nineteenth century women worked hard as homesteaders, mothers, and wives who owned no property, nor could vote. Ballads by Stephen Foster caught the pathos and alarming isolation many would have felt.
A program of songs and history from the Suffrage. Abolitionist and Temperance movements – in which Lydia's own female ancestors participated.
Dialogue, satire, poetry and fresh new ballads will educate, entertain and inspire. Lydia's performance as Susan B. Anthony celebrates the bicentennial of her birth and the centennial of what she fought so hard to achieve – Women's Right to Vote.

Colonial Times
Lydia entertains with songs and stories of men, women and children from the early years of America and into the 19th century. Dressed in authentic Colonial garb, Lydia Adams Davis brings to life the daily activities of families living in the Hudson Valley during the colonial and revolutionary war times. Accounts of bravery, treachery, political buffoonery, dame schools and patriotism are melodically expressed in familiar and obscure historical songs. Lydia has a program featuring Abigail Adams
Victorian/Turn of the Century
Lydia has combined her interest in nineteenth century life and her singing to create a refreshing program of Victorian popular songs. By researching the archives of nineteenth century music, Lydia has found a large array of beautiful songs to transport you back to the Victorian age.
Other Programs:

It's a Mighty Hard Road: Songs of the Great Depression: Woody Guthrie favorites, Union songs and Tin Pan Alley hits.
For Liberty and Lincoln Too: Songs of the Civil War.
Over There: Songs of the Great War and World War II.
I Have a Dream: Songs of the Civil Right's Movement.
Pete Seeger ~ Songs of Peace and Hope: Pete Seeger Ballads/Songs of Change.