Lydia began writing songs with children in New York City in her capacity as an Orff music teacher. Several songs on her albums are co-written with students in arts-in-education programs.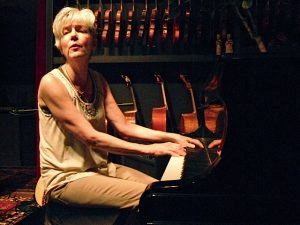 Lydia is invited to work with children, in libraries and camps and educational settings. With a variety of programs and performance skills to draw from, Lydia is a natural at leading workshops. Lydia has been combining the joy of making music with the discipline of learning to create delightful songs. The children have fun learning the craft of songwriting, researching the subject and performing their creation for an audience of peers.
Lydia works with a multitude of themes or leaves the topic open for spontaneity. The songs can be written for a play, a specific events, or just for fun. Lydia has worked extensively with special needs groups of all ages.
Save The Rainforest        © 2015 Lydia Adams Davis co-written with Ostrander School
Chorus: Save the rainforest
Beautiful, and green
It's the most wonderful place that I've seen
The Rainforest trees are being destroyed,
And that is what worries us girls and boys
We harvest medicine, paper and food
And other good things
Made out of wood
The trees clean the air
Of gasses and dust
Let's make a change
It's all up to us to . . .  Chorus
Deep in the jungle are lions and apes,
Rare birds and plants,
Insects and snakes
Endangered species all over the place
Let's help them now
Before it's too late to . . .  Chorus