We celebrate the 200th anniversary of the birth, February 15, 1820, of the heroic woman who went to jail for voting in 1872 in Rochester, NY. As a young woman who hiked across New York State in all seasons, she encouraged women to stand up for themselves and to seek an education, freedom from domestic bondage and, above all, the right to vote!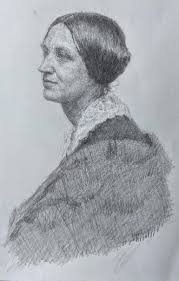 Susan eventually became a great speaker herself~ defying the censorship on her sex against public speaking. She had humorous tales prove her point. Today it all seems remarkably dense and mean that the United States government resisted reform by maintaining the 17th-Century laws already in place, but in spite of tremendous sacrifice and dogged determination another 100 years plodded by before the Franchise was achieved.
Susan was at first allied with the Abolitionist and Temperance movements but later there were interesting trends in these movements which were unfavorable to women. These contributed to her choosing a solo focus and single goal.
Susan B was raised Quaker in a happy home. She and her family loved dancing and musical entertainment, so they eventually abandoned the Quaker way of life way. With her usual dignity and "non-compliance-on-principal" she maintained her beliefs while teaching at a distant Quaker school; this being the only work available to single women. Though some of her attitudes were not well received at the academy where she taught from age 15 to 30, her talent and brilliance were highly valuable. They accepted her independent code of ethics.
Susan devoted herself to bringing about many changes for women teachers through the New York State Teachers' Association. Susan supported her father and mother as they aged.
Votes For Women! met with adversity from both women and men, yet in her thirties and early forties Susan shouldered on~often surviving on dried fruit, spending overnights in unheated road houses and facing discrimination from entering onto the stage among male orators. She gained a facility for repartee in her 57 years on the lecture circuit. A well-known Abolitionist once said to her: "You are not married. You have no business to be discussing marriage!" "Well, Mr May, Susan replied, " You are not a slave. Suppose you quit lecturing on slavery."
Susan achieved lasting friendships and many victories. Her popularity grew with each packed lecture hall. Her passionate speeches, her courage and determination caught fire among younger women (and men!). In organizational work she was a genius! Susan created the first state, national and international Equal Suffrage Association in 1888. She passed away on March 13, 1906, within site of her goal.