Library Programs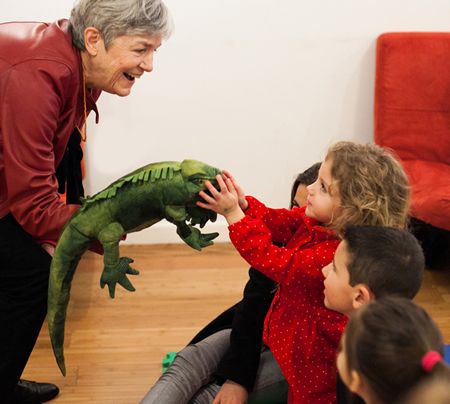 Kid Focused
Lydia's library program - Literary Livingston. Lydia's in-depth knowledge and love of children's literature enhances her ability to make stories come alive. Her wealth of songs from previous programs can easily be adapted to create a new library program to fit your needs. Other programs Lydia has used with success include:
Lydia performs thematic songs and creates literature-based new songs with her audience.
Come As Your Favorite Character:Children are invited to dress up as their favorite literary character and are interviewed on microphone by Lydia.
Lydia's story book songs come out of songwriting residencies with children and include "Everyone needs a Hug" (Corduroy), Arthur's New Puppy, Potter's Plight, Junie B. Jones and Picking the Red Ripe Strawberry.
For Families/Adults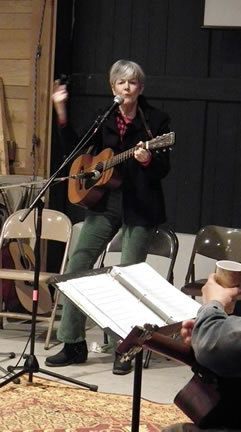 The Most Valuable Player I Know (Heroes big and small) Original ballads and a song the audience makes up with Lydia based on people they admire in history and in their lives.
Songs and Stories by Lydia: Lydia's potpourri of songs, stories, sign language, and wacky, wild animal hand puppets spark the imagination and draw family audiences into singing along.
Heritage Story songs: Adults swap a song or tale from their own heritage, and by sharing their memories achieve a sense of community. Lydia performs popular standards.
Improvisational Song-Story Swap: Groups of children and adults write songs together with guidance from Lydia.

Lydia's Songs for Seniors & Historical Programs
It's A Mighty Hard Road: songs of the Great Depression: Woody Guthrie favorites, Union songs and Tin Pan Alley hits.
For Liberty and Lincoln Too: songs of the Civil War.
Over There: songs of the Great War and World War II.
I Have a Dream: songs of the Civil Right's Movement.
Pete Seeger ~ Songs of Peace and Hope: Pete Seeger ballads and songs of change.
Melody Brings the Time Back
Pop Music in the Age of Edgar Allan Poe
Good Ol' Colony Days Yankee Doodle (full descriptions for this and other period-based concerts available under Historical Programs)
Ain't Misbehavin' - From Gilbert and Sullivan to Bye Bye Birdie, Lydia uses her improvisational talents and background in theater, Lydia makes the audience an integral part of the show. Join in the fun!
---
All of the programs include 100% audience participation. American Sign Language is incorporated into many of the programs. Lydia holds a Masters Degree in Special Education. Lydia loves to entertain and involve special needs audiences.

For booking information, please contact
Three Feathers Music, PO Box 1044, Beacon, NY 12508
914-805-2537