American Sign Language
Sign & Sing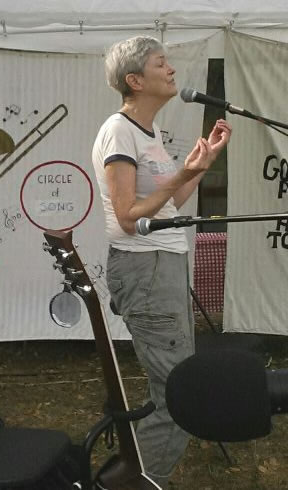 Lively interactive ASL workshop programs from Lydia Adams Davis for 5-9 and 10-14 year olds and 15 to adults.
Fun to learn some useful conversational ASL, finger spelling with the alphabet, stories and songs with Children Music Network's singer-songwriter-puppeteer.

Lydia teaches ASL classes to home-schoolers in Beacon and Poughkeepsie, the Howland Public Library and all ages in her home studio.
---
Lydia offers a program for pre-language toddlers and their caregivers through:
Compass Arts
395 Main Street
Beacon, NY
compassarts.org
---
Conversational ASL
Tweens, Teens and Adults
Lydia offers workshops on ASL - Contact her for more details.
---
Lydia holds a Masters' Degree in Deaf and Hard of Hearing from Hunter College and Gallaudet University.
She currently studies sign language at SLC- Sign Language Center in Manhattan.
---

For booking information, please contact
Three Feathers Music, PO Box 1044, Beacon, NY, 12508 - 914-805-2537
e-mail: Lydia at LydiaAdamsDavis.com